Accurate dimensional analyisis
Critical dimensions
SensoINSPECT algorithms use sub-pixel resolution to detect the width of the strut. Critical Dimensions can be determined throughout the entire stent structure (CD Full analysis) or in previously defined areas of interest in the Stent Model Database (CD Regions analysis).
Dimensional analysis results are obtained with a repeatability of +/- 1% rms and +/- 3% PV. This information is superimposed onto the unrolled images with a green/red flag that indicates whether the dimensions are in or out of the accepted tolerance range, thus allowing immediate decisions to be made.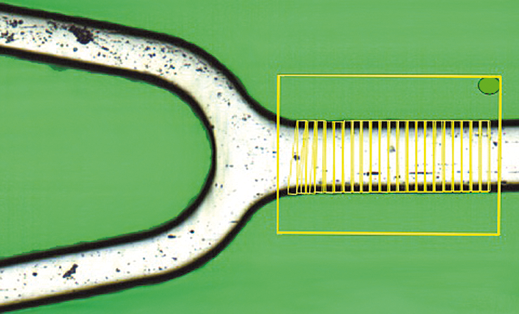 Sidewalls
SensoINSPECT obtains immediate readings of the real size of stent sidewalls by measuring them at every position along the length of the struts displayed in the unrolled section (without applying any geometric correction)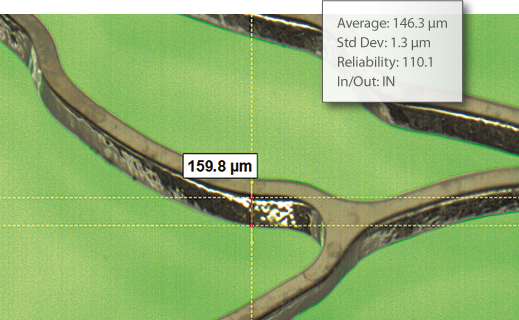 Edges
SensoINSPECT software simultaneously identifies the edges of struts in unrolled images and uses dimensional analysis to provide an accurate assessment of the shape (roundness/sharpness) of these edges.
This kind of analysis can be also carried out throughout the complete stent structure (Edges Full analysis) or in individual areas of interest (Edges Regions analysis).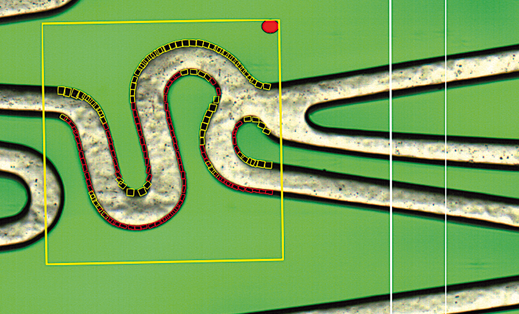 #mk-tabs-5950c78b4f64a .mk-tabs-tabs li.ui-tabs-active a, #mk-tabs-5950c78b4f64a .mk-tabs-panes, #mk-tabs-5950c78b4f64a .mk-fancy-title span{ background-color:rgba(255,255,255,0.01); }