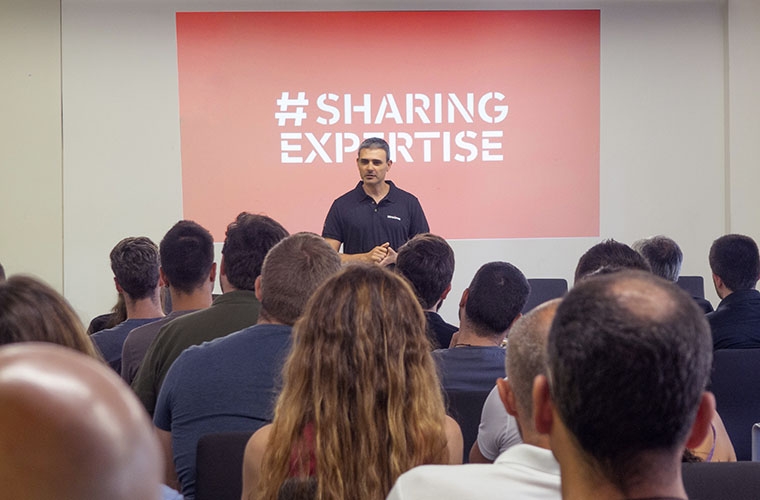 Knowledge is key! #SharingExpertise
Since the company was founded, #expertise has been part of our DNA, at all levels, and that's why we wanted to incorporate it into our values as a brand.
We gladly share our experience, so our clients can make the most of our knowledge when operating with our systems.
This year, through different activities and events, we want to highlight this important value.
Yesterday, we got things done with an internal event involving the entire staff of our central offices. The goal of the session was to share what our experts from Science Department are working on and to convey the importance that we, as a company, place on research into new technologies and innovations in the field of Optical Metrology.
Our scientific staff is composed by Guillem Carles as head of scientific research and three scientific staff members (performing research within respective industrial doctorates), Pol Martínez, Narcís Vilar and Lena Zhukova.
Our colleagues, and experts, presented their research lines, including current projects and recent achievements, the way they support the development of applications and how they collaborate with both, internal teams, and external partners such as universities, R&D centers, and customers.
Sensofar's goal is to become a reference in the Optical Metrology field, and that's why we strongly invest in research and innovation. The results of these investigations carried out by our team of experts have been presented in international congresses and published in scientific journals from the most prestigious optical societies, including SPIE, IOP and Optica (former OSA).
The most recent publication was released this week in a special issue of the journal "Measurement Science and Technology" from IOP dedicated to metrology for additive manufacturing:  Optical system for the measurement of the surface topography of additively manufactured parts
Look out for all our communications tagged with #SharingExpertise, and discover everything we have prepared for you here at Sensofar.