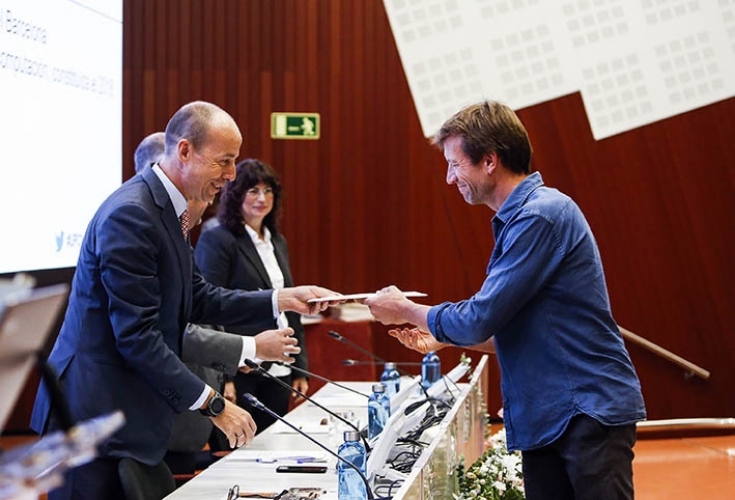 The UPC awards Sensofar for the trajectory achieved
The company has received an award for the best technology-based company or spin-off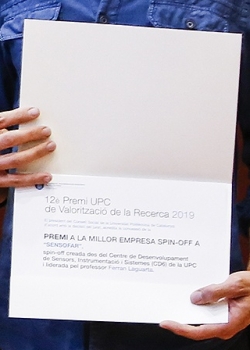 Above picture. Joan Gispets, Dean of the Faculty of Optics and Optometry of Terrassa, receiving the award on behalf of Sensofar
In the framework of the Research Valorization awards 2019 of the prestigious UPC (Polytechnic University of Catalonia), that recognize the university research groups' work in the different modes of investigation, our company has been awarded in one of its categories;
The best technology-based company or spin-off.
Sensofar is one of the first spin-offs of the UPC and one of which has had more and better course since its foundation. In conjunction with the CD6, it has made international contributions to the development of 3D profilometry techniques that have given rise two families of international patents, and a portfolio of five high tech products that are a worldwide reference, and that have been acquired already by more than 800 clients in 25 different countries.
The company has had to compete from the beginning with companies that have a long tradition in the field of surface metrology (Zygo, Brucker, Olympus, Keyence…) but the technological innovations incorporated in their products have allowed it to build a prestigious brand with which it has reached a market share of over 10% to become a reference provider in the field of 3D profile.
Throughout his career, Sensofar has also received different awards and recognitions. Among them, the " Photonics Circle of Excellence Award " granted by the editorial group Laurin Publishing of the United States. An award given to a Spanish company for the first time, as one of the most innovative global companies in the field of Photonics.
We want to thank the UPC for this recognition!